Everyone needs sun protection for getting healthy skin. Sun protection gives your skin a smooth, healthy and brighter look. You, as a student, have to go to different places. You have to stand in a queue under the direct sun rays to submit your fees or projects. You have daily contact with the sun. This daily contact with the sun will absolutely makes your skin dull, unhealthy and rough.
Sun has many ultraviolet or UV rays in them, which are quite harmful for your skin. If your skin is naked, during sun exposure, these UV rays penetrate in the outer skin layer and pass into deeper layers, where they damage the skin cells. To protect your skin, it is very necessary to wear sun block, sun screen or sun protection lotion and spray on your skin. A best sun protection product blocks and absorbs the UV rays. Sun protection products have SPF in them.
Now the question arises that which skin block will be perfect for you. You need not to worry any more. After reading this article, you can easily choose the best skinblock for your skin, as student's skin demands extra care and protection.
First of all, recognize which skin type you have. Have you dry, oily, sensitive or combination skin? To know the type of your skin, sleep with bare face skin at night. Get up next day and tap once a clean finger on your nose, forehead and cheeks. If your finger has no oil and skin feels stretched and cracky, you have dry skin. If your finger is moist or oily, you have oily skin. Now its time to choose the best skin protection for your beautiful face.Here I am listing the best skin screens according to different skin types.
This products review has been written to list the best sun screens for the students in 2021.
Neutrogena Ultra Sheer Dry-Touch Sun-screen: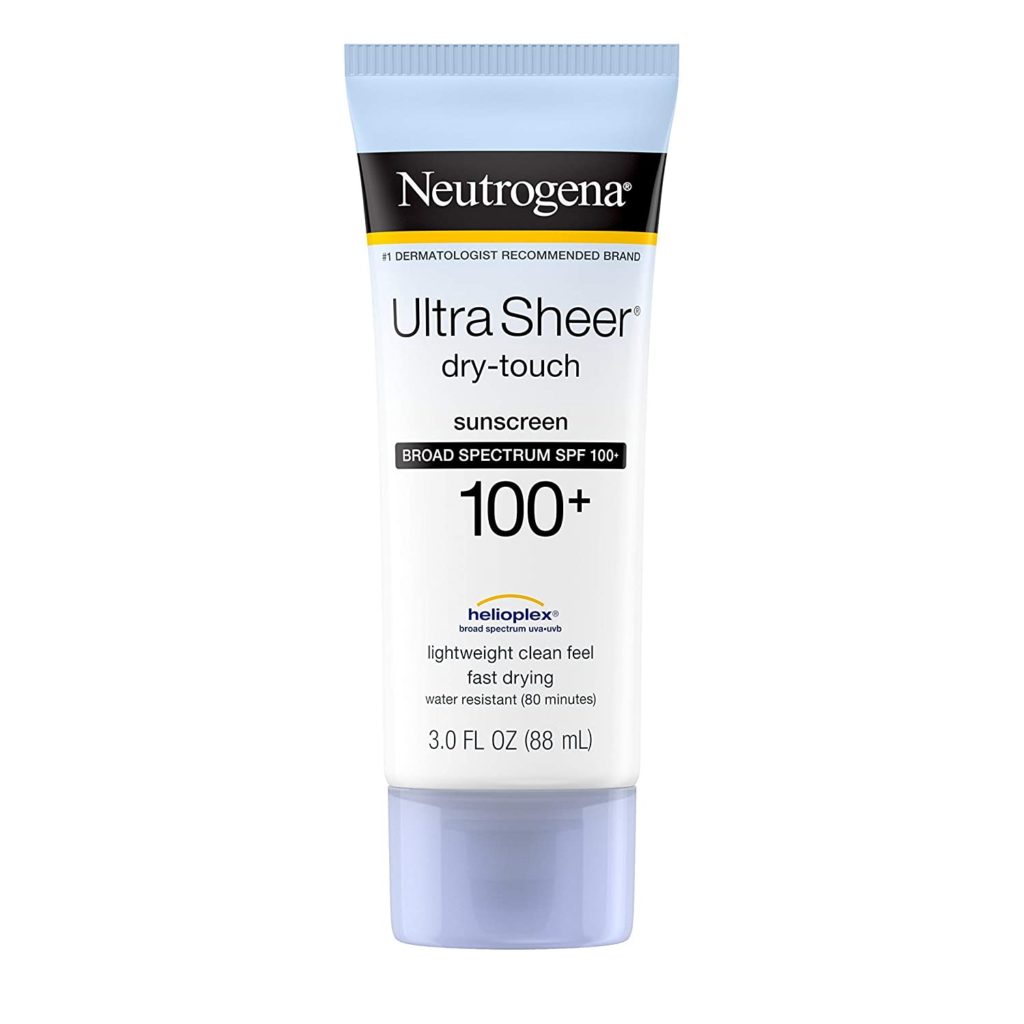 Neutrogena Ultra Sheer Dry-Touch sunscreen has 100+ SPF which protects the skin from sun's UVA and UVB rays. Its sheer skin protection formula decreases the risk of skin-cancer. This is light weight sunscreen which penetrate in the skin and don't leave grease and oil on your skin. This is the best for all skin types. It gives matte finish look to the skin. It has Helioplex which gives extra sun protection to the skin. This sunscreen is dermatological tested and doesn't leave any side effects on skin. This is also good sun screen for beach time. It has 80 minutes of water resistant. It has Avobenzone which also protect your skin from dullness and early aging signs. It is Paba-free formula and is non-comedogenic.
Pros:
100+ SPF
non-greasy
helioplex and Avobenzone
Paba-free
dermatological tested
for all skin types
non-comedogenic
Cons:
Banana Boat Sunscreen Ultra Sport Broad Spectrum Sunscreen Lotion:

Banana Boat Sunscreen Ultra Sport Broad Spectrum Sunscreen Lotion has 50 SPF which gives broad spectrum protection from UVA/UVB. This lotion is very light weight and gives you non-greasy look. It has broad sport board spectrum which defends you from sun rays, and is best for outdoor. This sunscreen is best for dry skin and stays in sun, water, wind and heat for long time.
Pros:
best for outdoor
light weight
non-greasy
long lasting protection
Cons:
California Baby Sunscreen for Super Sensitive Skin: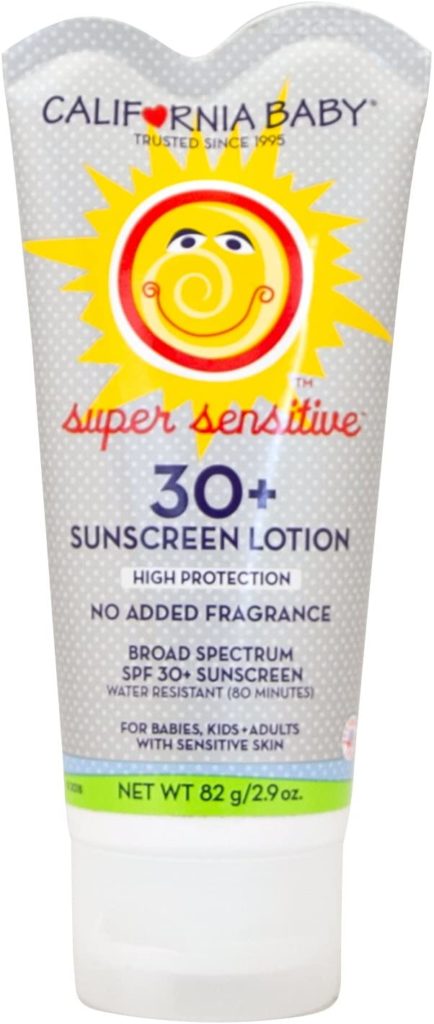 California Baby SPF 30 Sunscreen for Super Sensitive Skin has 30 SPF with natural minerals and titanium dioxide. This sunscreen is the best product for sensitive skin as well as for babies. It moisturizes the skin and protects the sensitive skin from sunburn. It leaves your skin baby soft and supple. It protects your skin upto 80 minutes. It is water resistant. It is elergically tested and leaves no irritants and rashes on sensitive skin. It is oxybenzone- free formula which assures not to be allergic.
Pros:
natural minerals
titanium dioxide
moisturize
elergically tested
oxybenzone- free
water resistant
best for sensitive skin
Cons:
Kiss My Face Sun Spray Natural Sunscreen Lotion: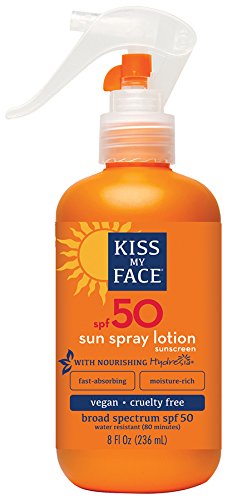 Kiss My Face Sun Spray Natural Sunscreen Lotion has SPF 50 with flower power beats.It is Vegan & Cruelty Free formula which has Hydresia in it. It is frangrance free and fast obsorbing spray. It is best for summers for all skin types. It has a trigger bottle to spray lotion easily. It is Oxybenzone and Paraben Free. It protects your skin upto 80 minutes. It has safflower ingredients and is water resistant.
Pros:
safflower ingredients
fast absorbed
light weight
Oxybenzone Free
Paraben Free
water resistant
best for all weathers
Cons:
EltaMD UV Clear Facial Sunscreen: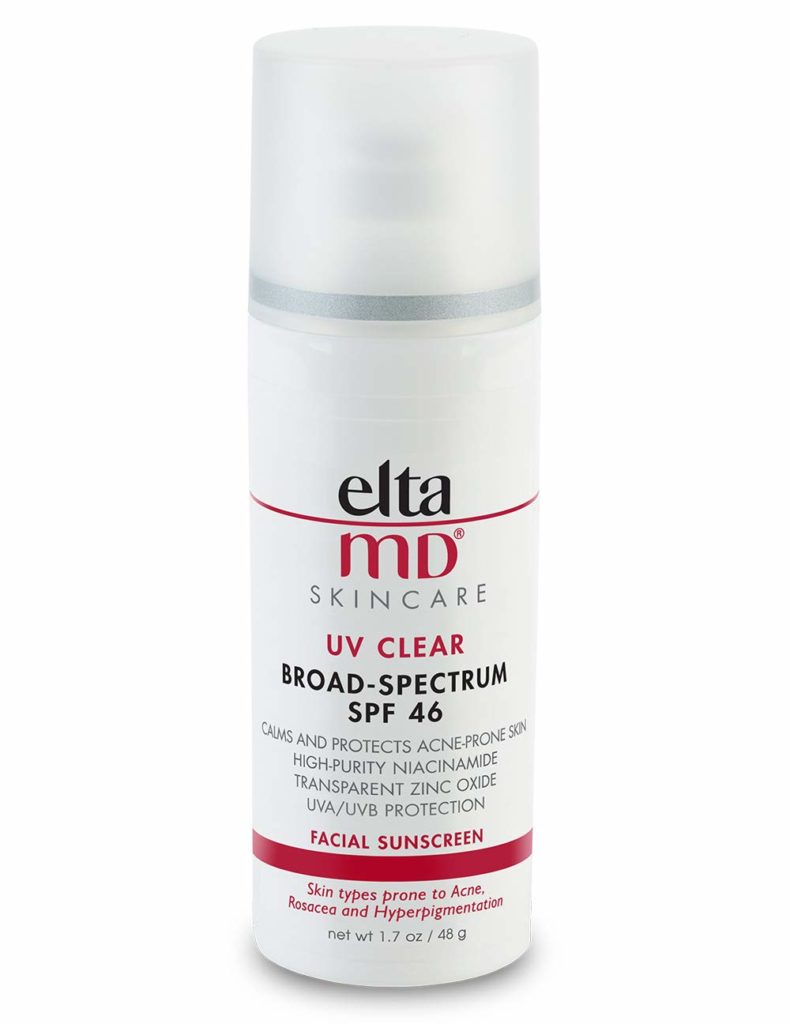 EltaMD UV Clear Facial Sunscreen has SPF 46. Its broad spectrum UV clear formula protects acne prone and sensitive skin from ultraviolet rays of sun. It has transparent mineral based zinc-oxide which also removes hyper-pigmentation from the skin. It is oil free formula which controls sebum and acne. It is dermatological tested. It is Paraben free and is non-comedogenic. It is frangrance free. This sunscren not only protects your skin from sun rays but also stops acne.
Pros:
zinc oxide
clears hyperpigmentation
stops acne
oil free
Paraben free
non-comedogenic
dermatological tested
Cons:
The Advantages of sunscreen for students:
Skin care is the best way to look beautiful and attractive. Students should take care of their skin because they face dust and pollution while going outside. Sunscreen is the best way to save from pollution as well as sun rays. I have told you the best sunscreens for all skin types. All are the best recommended sunscreens to save your skin from UVA/UVB rays.